Hairsprays are definitely beneficial to have in your hair product collection.  You never know when you need a good spray to keep your hair in tact whether it is just for a night out or a formal event.
Two hair sprays I will be reviewing today are from Nick Chavez Beverly Hills.  They were very kind to send me these products to try out.
Thirst Quencher Hydrating Hairspray and Red Carpet Extra Hold Finishing Spray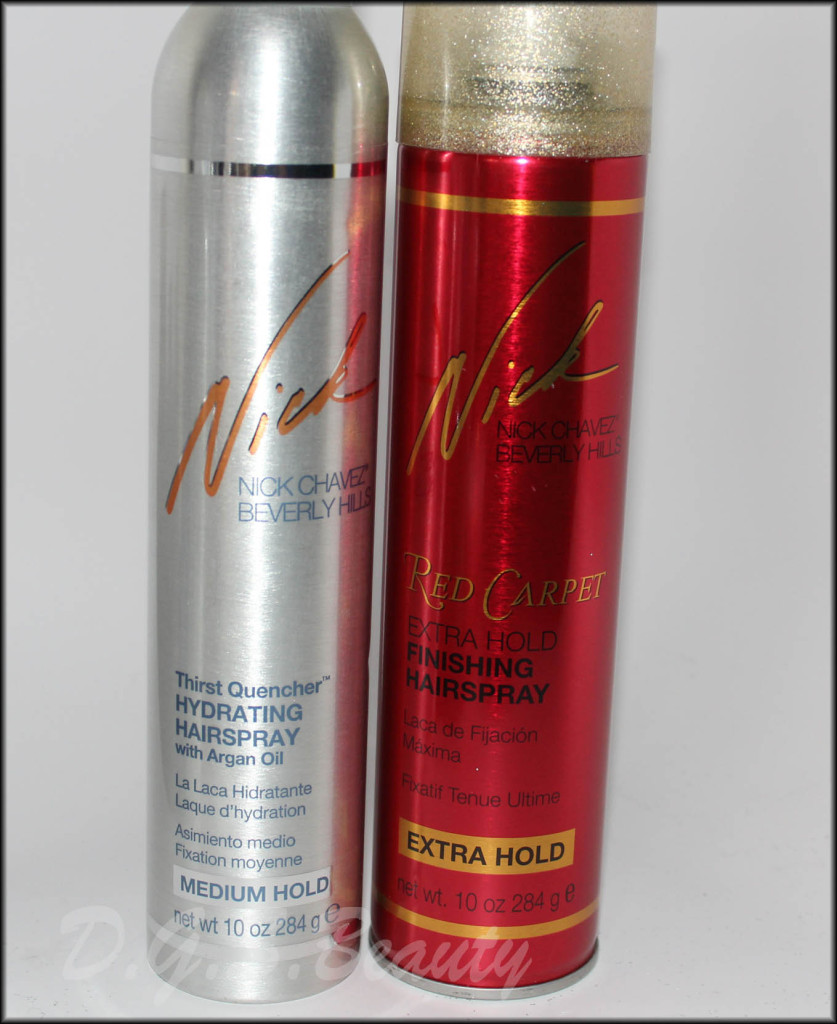 Thirst Quencher Hydrating Hairspray (10 oz. / $23.00) hydrates and moisturizes while providing flexible hold without stickiness or build-up.  Leaves hair feeling weightless and manageable with shine.
I have never been much of a hair spray user.  Even though it feels pretty cool, I dislike that stiff feeling.  However, I knew they would also come in handy.  I am so glad I got this hydrating hairspray to try.  It is Ah-mazing!  It allows me to keep my hair in place all day with a natural look.  I especially love that at the end of the day, when I comb my hair it does not feel dry and there are no frizzes.
Red Carpet  Extra Hold Finishing Spray (10 oz. / $26.00) holds your hair while achieving the same luster and style as a celebrity.
Like I mentioned before, I'm not a fan of very stiff hair.  But this spray did come in handy when I attended a formal event with the husband.  It not only kept hold the entire night, but it also provided so much height and shine.
Out of the two, I think it is obvious that the hydrating hairspray was my favorite.  I know I will be using these two a lot.  My hair will be thanking me.
What are your favorite hair products?
Thanks for reading,