I have been on an exfoliant high lately so I was ecstatic to find that Beautisol now offers a face exfoliant to help achieve cleansed, fresh and rejuvenated skin.  Also, the fact that this product is paraben-free, propylene glycol-free, sodium laurel/laureth sulfate-free, and cruelty-free (PETA certified) got me hooked!
Beautisol is a company that provides sun care products that are high quality and environmentally friendly.  Exscrub Me? was created to prepare the face for applying self-tanners, however, it could also be used as a regular exfoliant.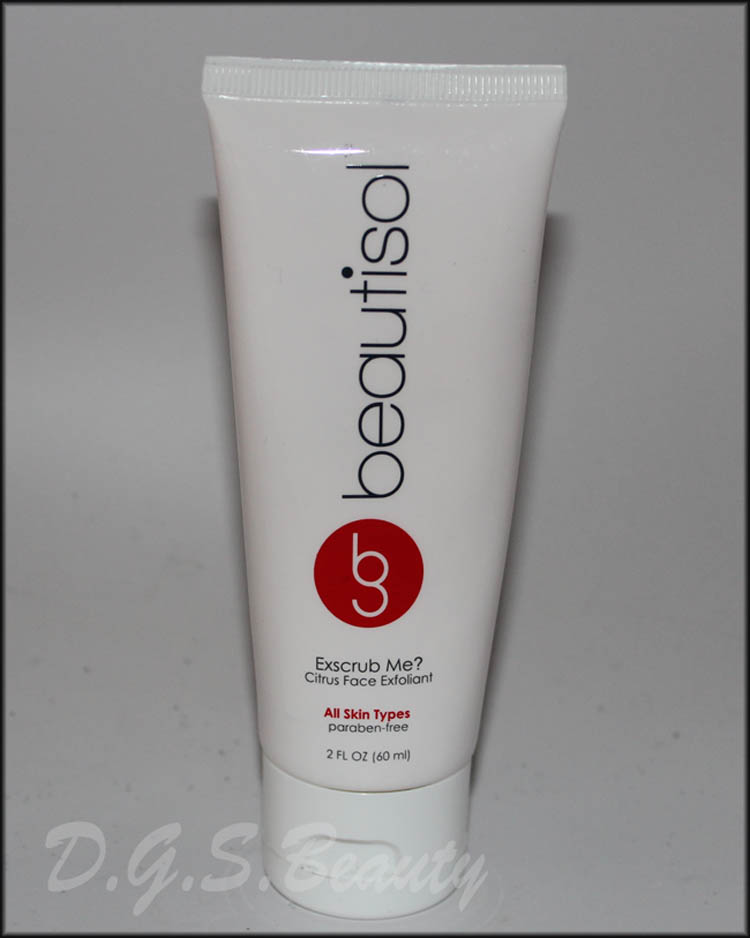 Beautisol Exscrub Me? Citrus Face Exfoliate (2 fl. oz. $17.00) is a "gentle, yet very effective citrus face exfoliate that is the perfect solution for deep cleansing the face, removing dead skin cells and eradicating impurities."
Directions: Dampen skin and apply a small amount to fingertips and massage on to face in circular motions. Rinse well with warm water.  Exfoliate your face twice a week as needed or prior to applying "Need I Glow More?" face self-tanner.
In my swatches below, this exfoliant is a light pink cream with red beads (Polyethylene).   It seemed very pretty and appealing with I first saw it.
After several weeks of using this product, I noticed my skin looking smoother and cleaner.  It gave me a nice glow, which is nice considering I don't have much time lately to put on makeup when I go out.  A little note to keep in mind is that the beads may feel a bit rough so perhaps be a little gentle when you massaging it on your skin.
If you decide to get this product through Beautisol, click here and enter the code "BOGO2014″ to "Buy 1 Get 1 Free."  The offer is valid until June 31, 2014.
What is your favorite Beautisol product?
Thanks for reading,
*Products were provided by iFabbo through their SHOP program. This is my honest opinion.