Beth Bender Beauty offers makeup and brushes to your eyes desires.  They sell eyeshadows, eyeliners, concealers, stencil kits, and brushes.   I was sent the Girls' Night Out Sexy Eyes Makeup Set and the Perfect Smokey Eyes & Cat Eyeliner Makeup Set.
Girls' Night Out Sexy Eyes Makeup Set ($39.00)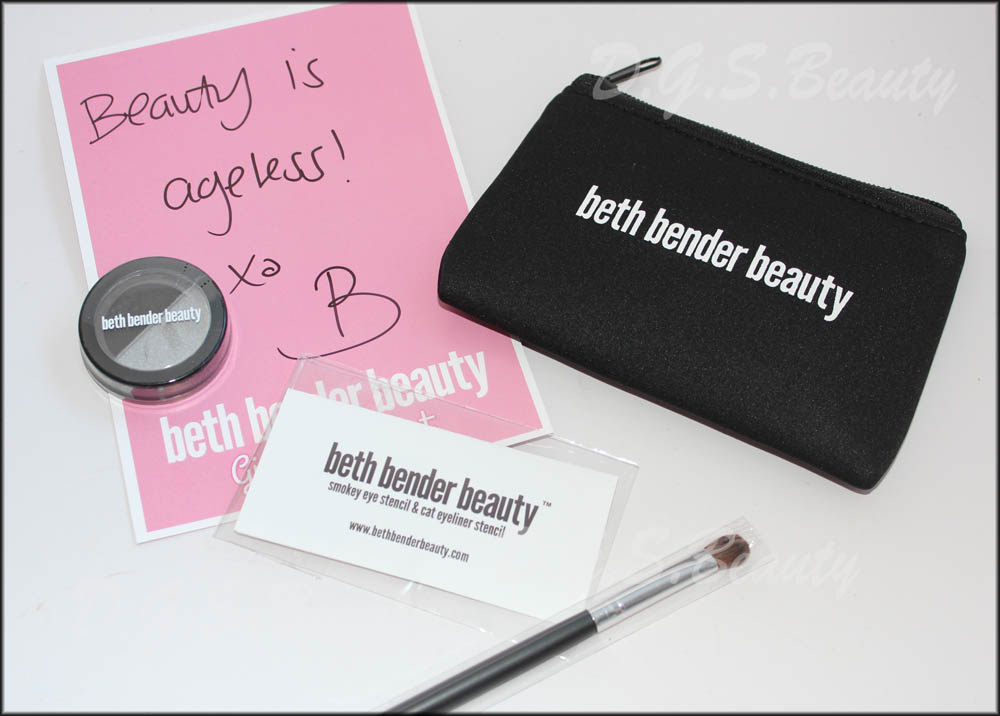 As you can see in the picture, this set comes with the following:
-1 Pro Eyeshadow Brush
-1 Duo Eyeshadow in Onyx & Platinum
-1 Cat Eye Liner Stencil & Top Eyeliner Stencil
-1 Smokey Eye Stencil & Bottom Eyeliner Stencil
-1 Instruction Card
-Cute black zippered case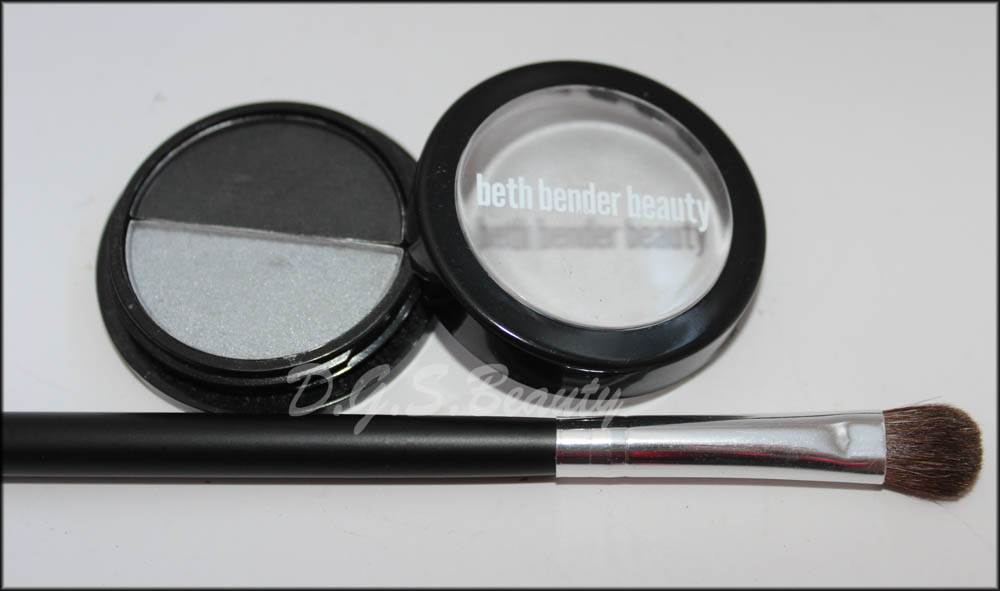 Duo Eyeshadow in Onyx and Platinum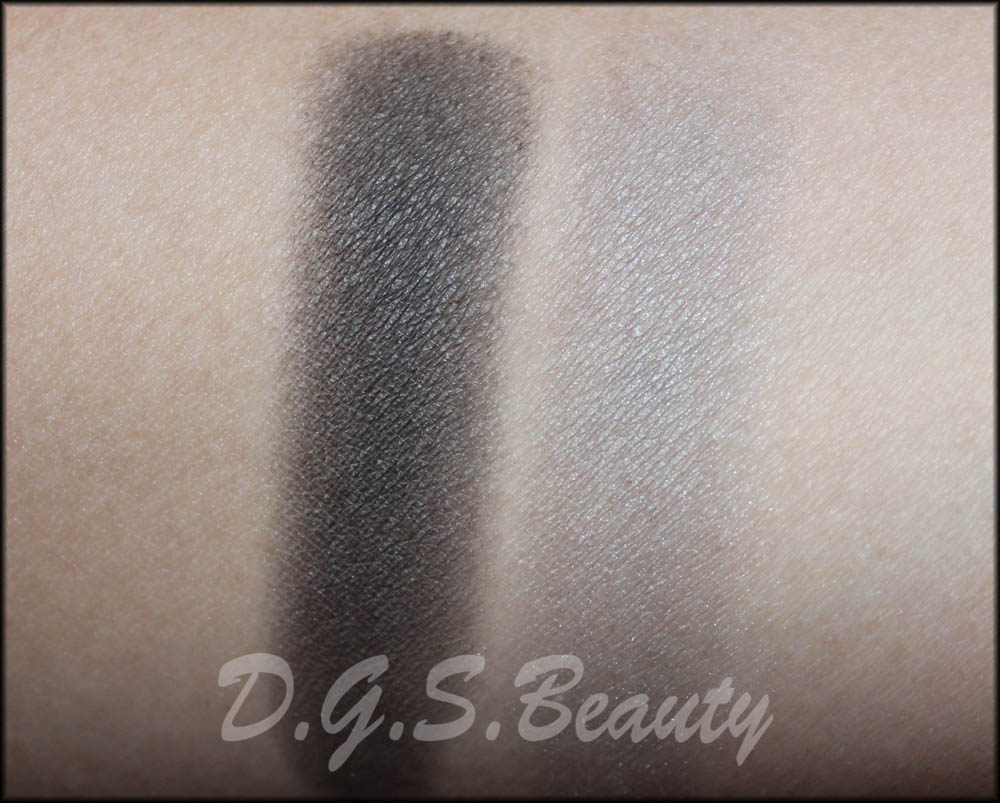 These eyeshadows are beautiful.  They are very pigmented and easy to blend.
As you can see, the instructions are thorough and very easy to follow.  I love that it helps to complete your makeup look from the eyeshadow down to the eyeliners.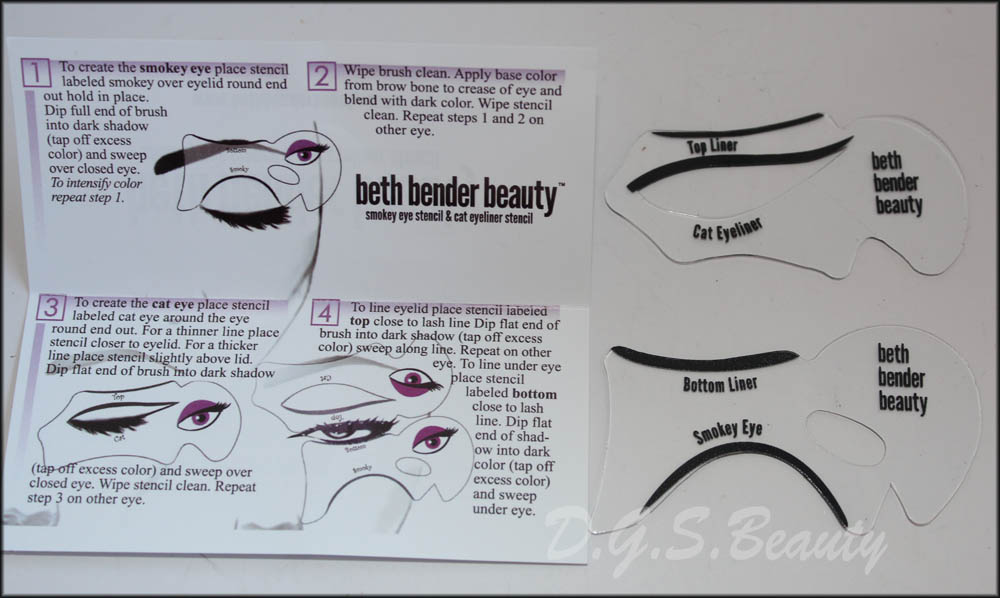 This was my first attempt using the stencil to create a smokey eye.  It was easy as 1-2-3.  As for the cat eye, I tried to also use the Onyx eyeshadow but the cat eyeliner didn't come out as well as I hoped.  However, with another look (picture below) it came out nicer.  Practice makes perfect!
I find this set stays true to it's name. This would definitely be perfect to wear for a girls' night out or for any evening event actually.
Perfect Smokey Eyes & Cat Eyeliner Makeup Set ($34.00)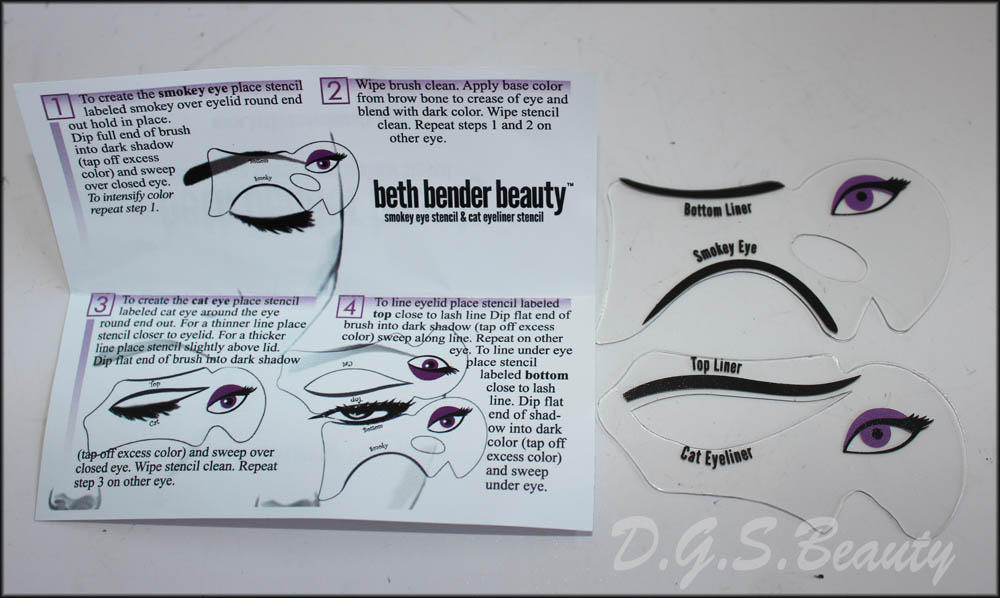 Like the Girls' Night Out Sexy Eyes Makeup Set, this set includes the stencils to make life a bit easier.  I was also sent a Duo Eyeshadow in Peach Shimmer and Golden Brown and a Loose Eyeshadow in Bisque.  I also received two eyeshadow brushes.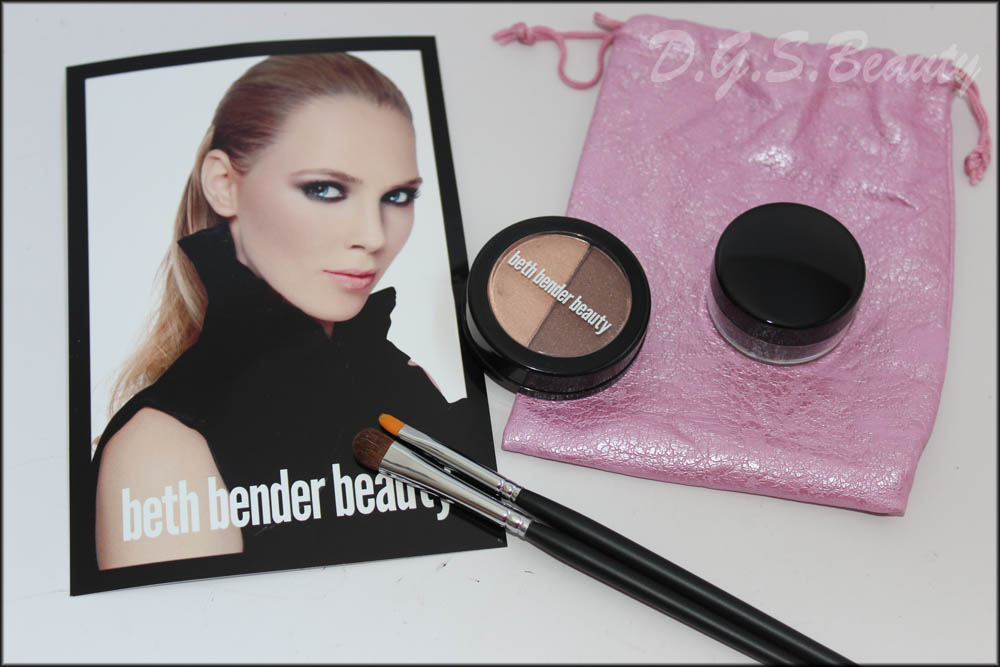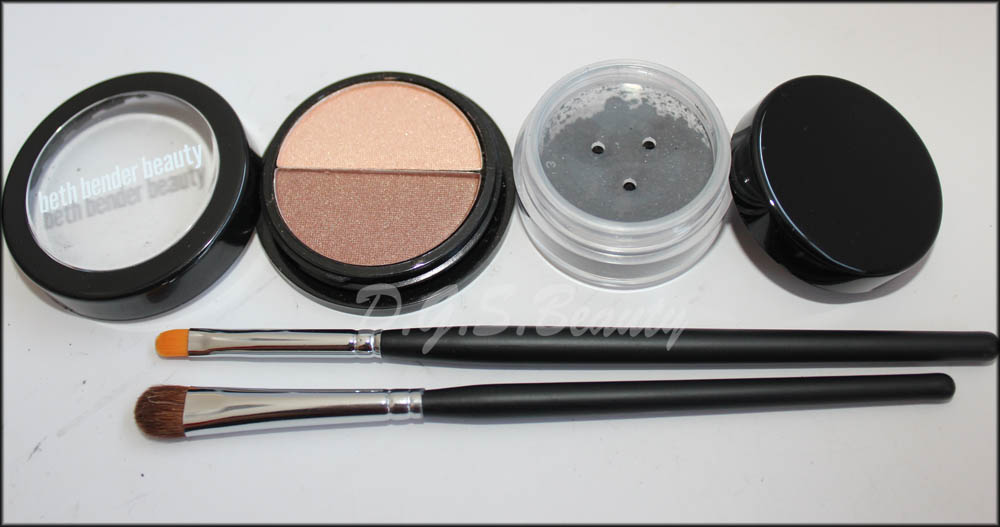 Bisque, Golden Brown and Peach Shimmer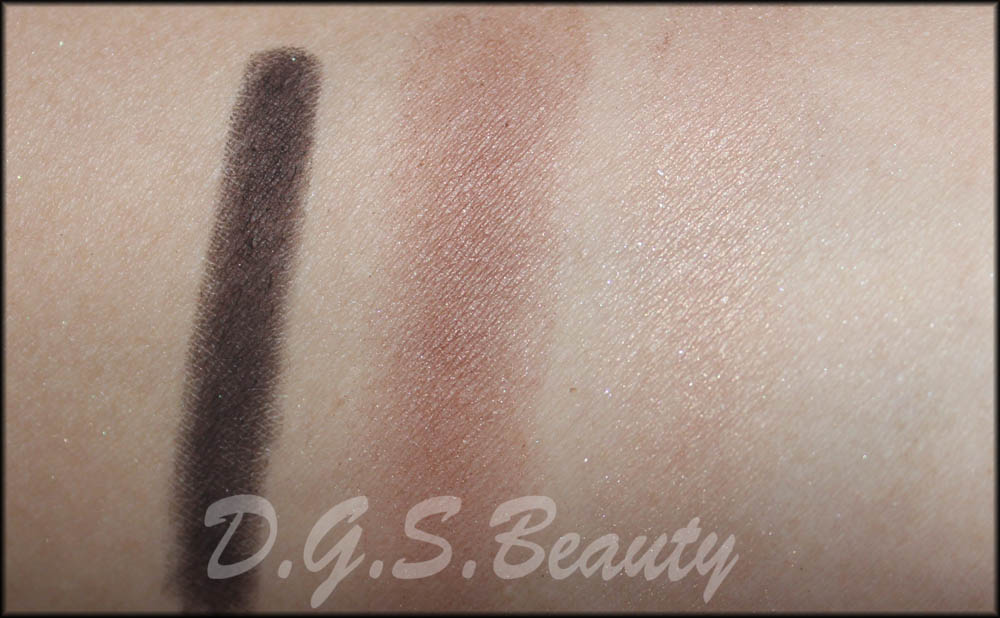 Bisque and Golden Brown are very pigmented as you can see.  Peach Shimmer was more sheer but I believe it kept to its name.  Combined they created a simply beautiful look.
It may not seem like much but this was actually my favorite out of the two looks.  It is so natural and the cat eye just adds a bit more spice.  This look could be worn during the day or night.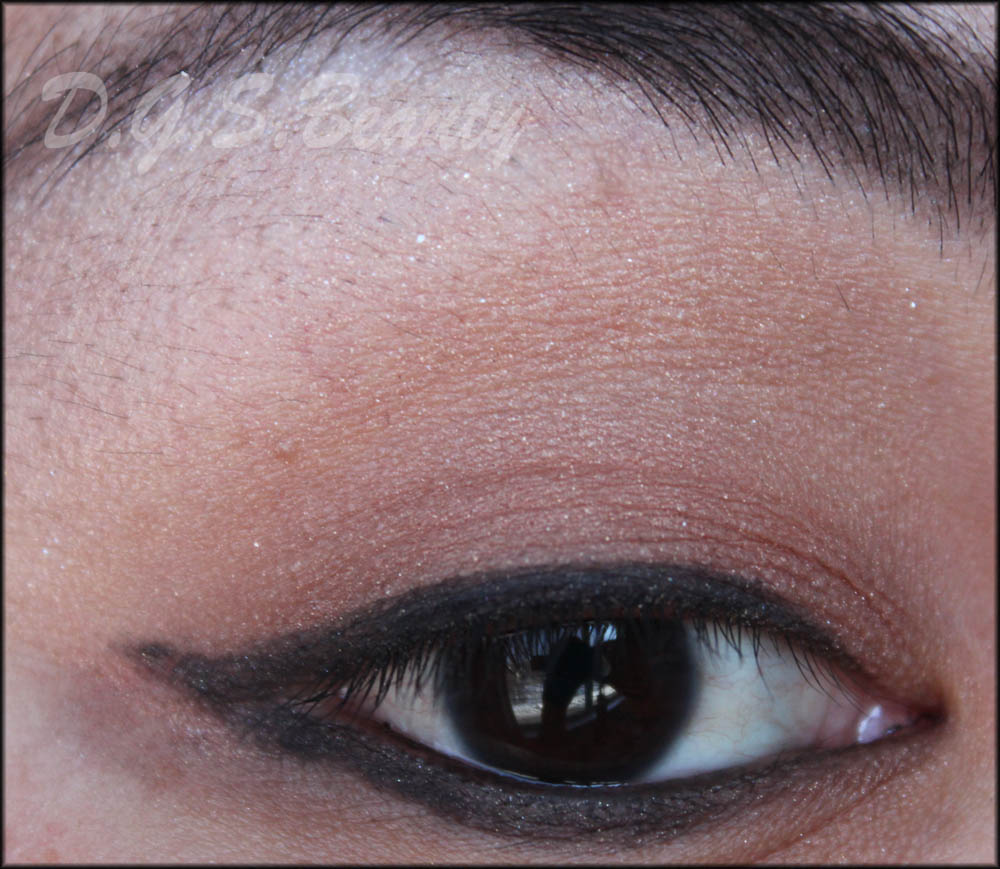 With it being my first time trying any Beth Bender Beauty products, I was pleasantly pleased.  I was also skeptical using a stencil but I found it helpful with perfecting my eyeliner.  I can do it freestyle but both eyes never look similar.  Overall, great products.  If you have trouble with eyeliners, definitely try the Beth Bender Beauty Eyeliner Stencil Kits.