There is no need to wait any longer, ladies (and gents)!  May the drooling being in 3, 2, 1..  I am so excited that I finally received my Makeup By One Direction.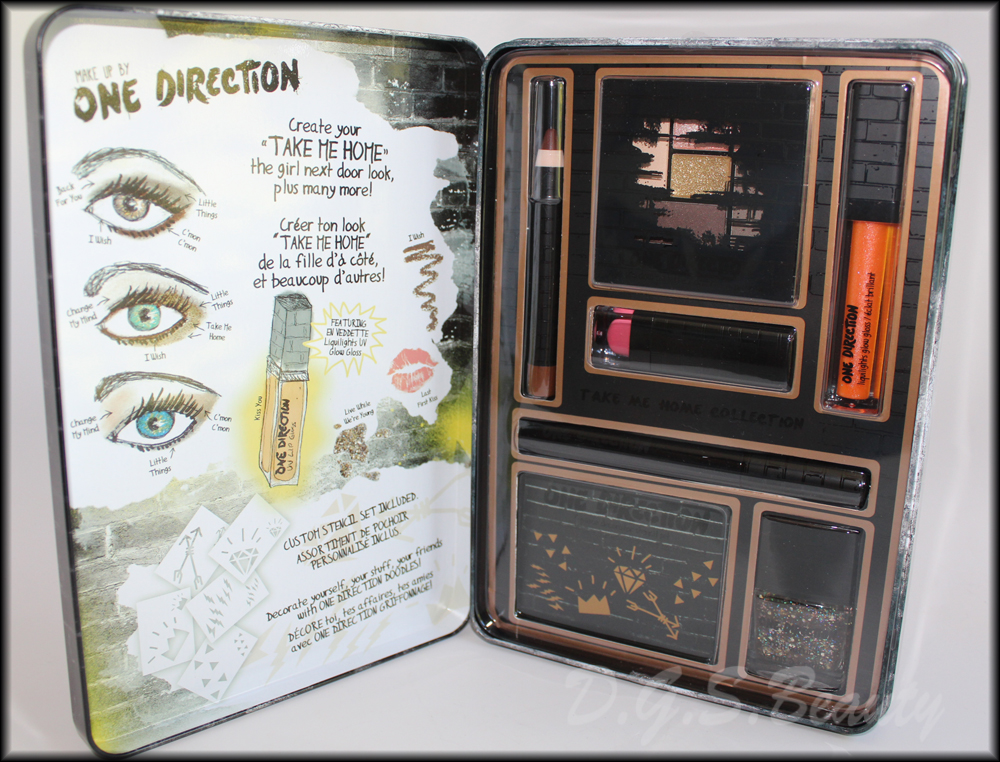 Of the three kits in The Looks Collection, I received Take Me Home.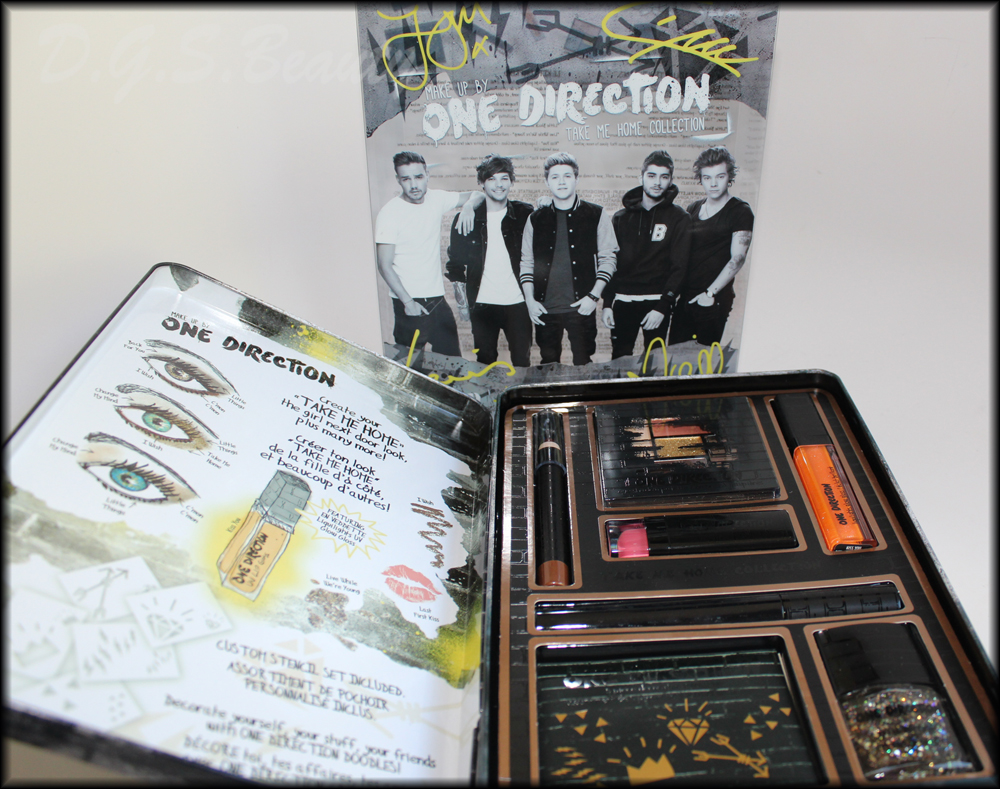 "Kiss You" Liquilights Glow Gloss
4+1 Eye Shadow Palette
"Last First Kiss"
"Little Black Dress"
"Live While We're Young"
"I Wish"
Also includes a 5 piece decorator stencil set.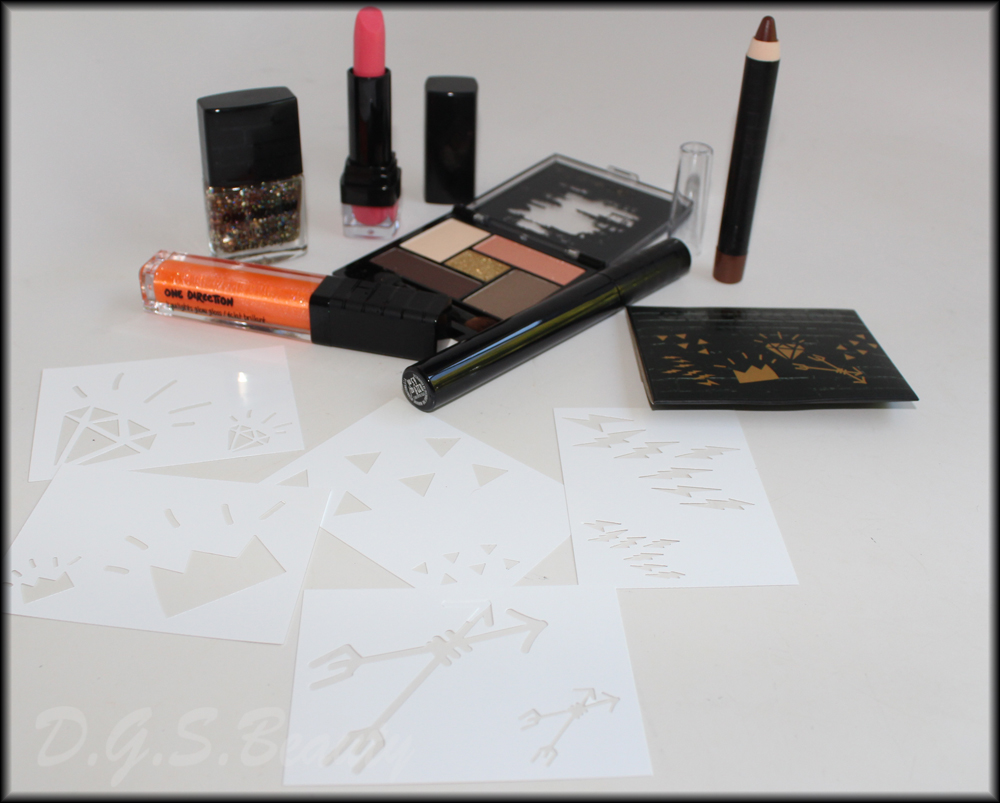 "Last First Kiss"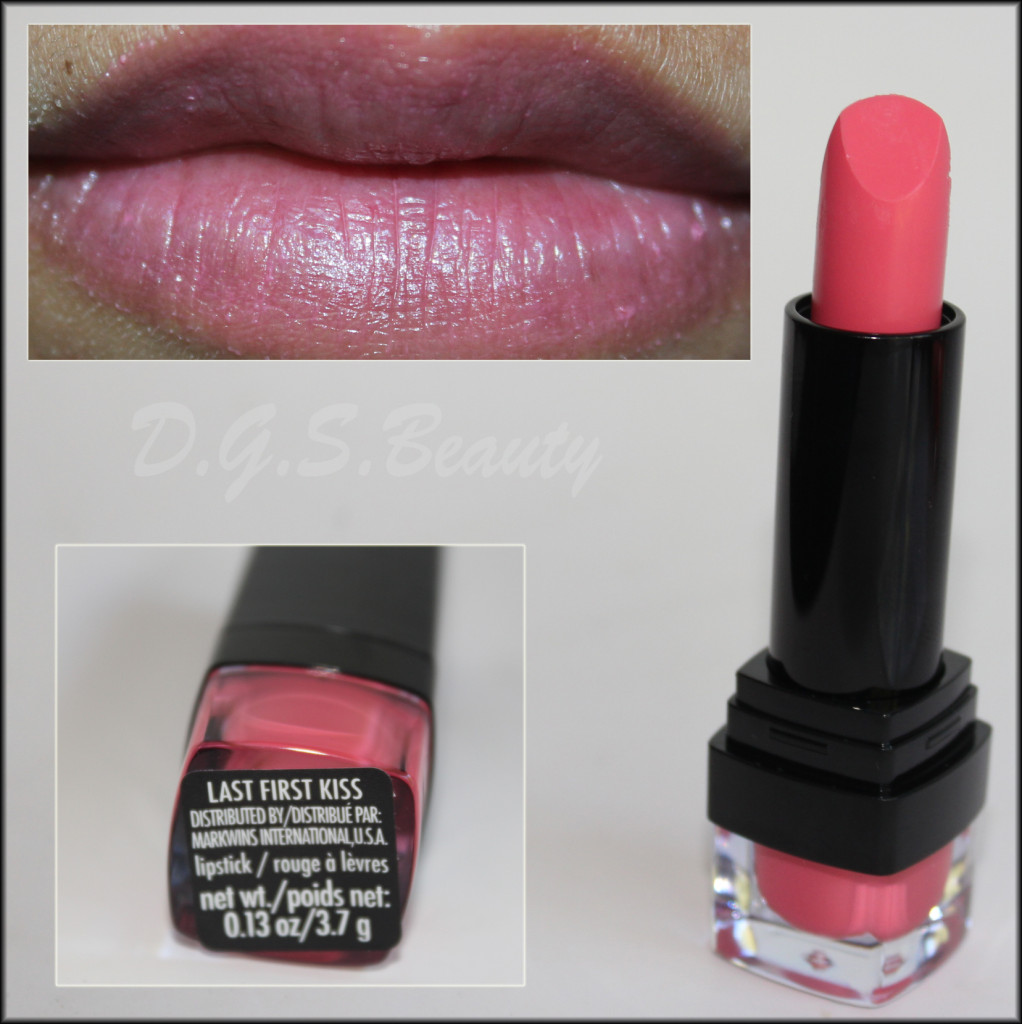 Last First Kiss is a nude-pink sheer lipstick.  As you can expect with light pink lipsticks, it goes on sheer so I enjoy wearing this with loud a smokey/loud eye look.
"I Wish"

 I Wish is a warm chocolate brown eye and body crayon.  I have never used a "body crayon" before so I was not sure what to think of it just yet.
"Kiss You" Liquilights Glow Gloss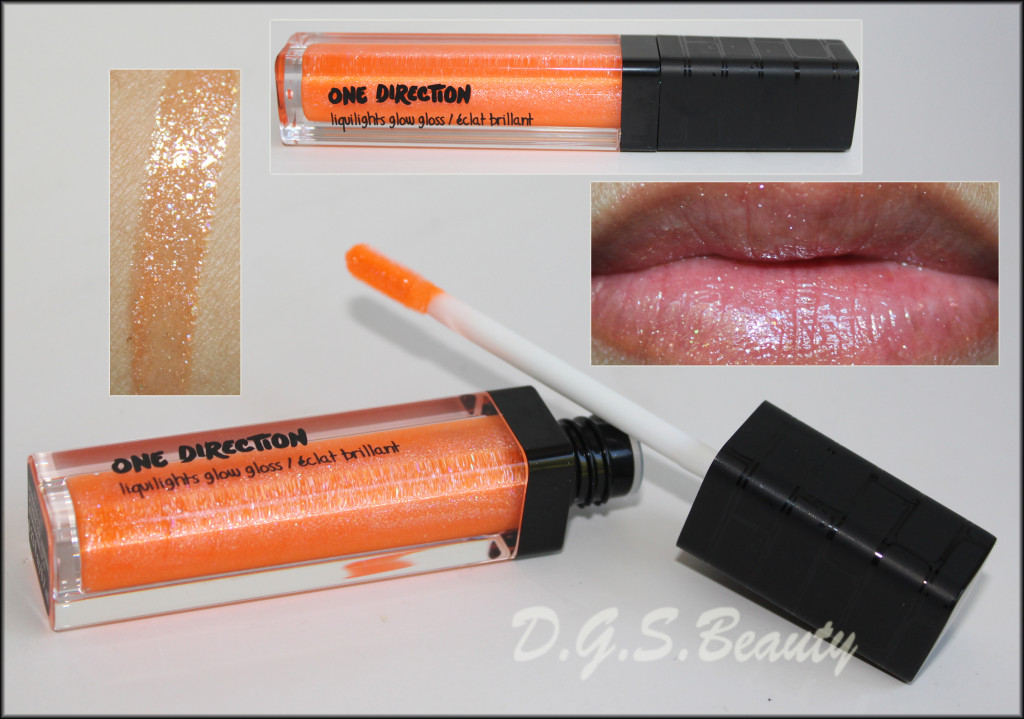 Who doesn't want an orange glitter rush lip gloss?!  Okay, I never thought I would every have one, but I must say it is cool to add to my lip product collection.  As you can see, in my lip swatch above, it is very sheer and slightly sticky.  However, don't let that turn you off.  What makes this even more interesting is that it supposedly glows to neon yellow under UV light.  You can bet the next time I go cosmic bowling, I'll have these babies on my lips.
"Little Black Dress"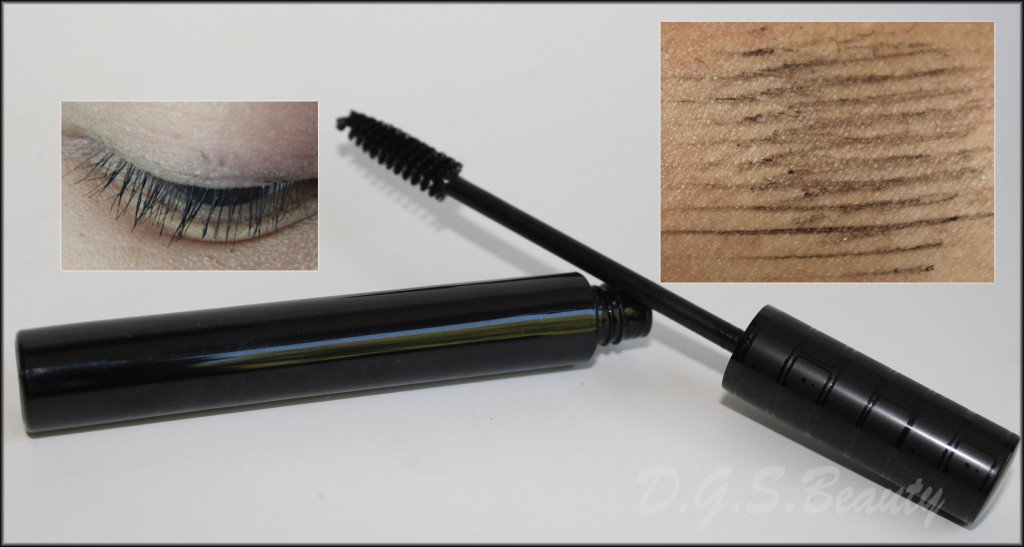 First off, I have to say that I love the name "Little Black Dress."  It is a volumizing mascara in black.  The brush is like your standard mascara brush with a dry formula.  Although it didn't exactly add length or volume to my lashes, after two coats it made my lashes a bit more noticeable.
Eye Shadow Palette
This eye shadow palette is filled with perfect nude shades.  The beautiful shades are:
-"Back For You" – velvet creme -"Change My Mind" – peachy shimmer -" Take Me Home" – golden glitter creme -"Little Things" – smoky brown -"C'mon C'mon" – soft taupe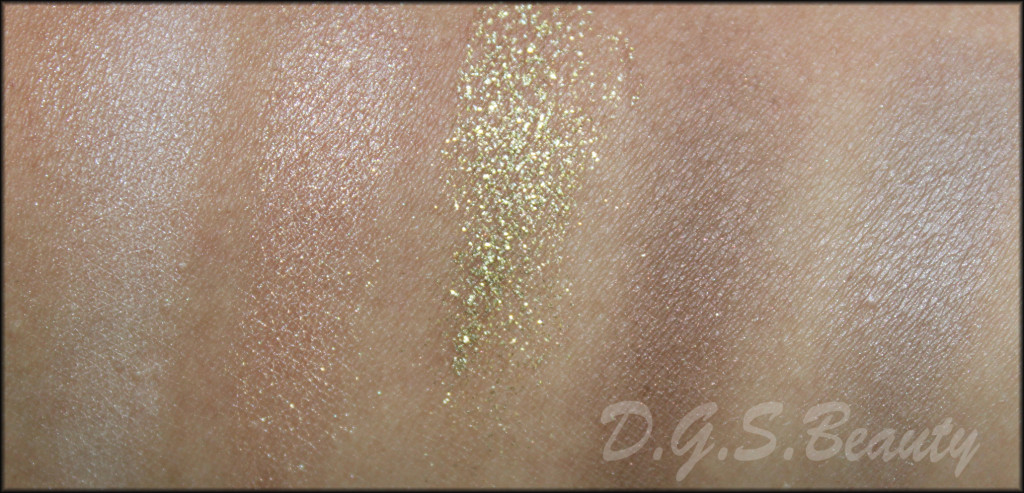 I am a sucker for eyeshadows!  Although you can never go wrong with having too many nude shades, I am a bit disappointed that they are not very pigmented.  Also, I noticed that "Take Me Home" has a lot of fallout.
5 piece decorator stencil set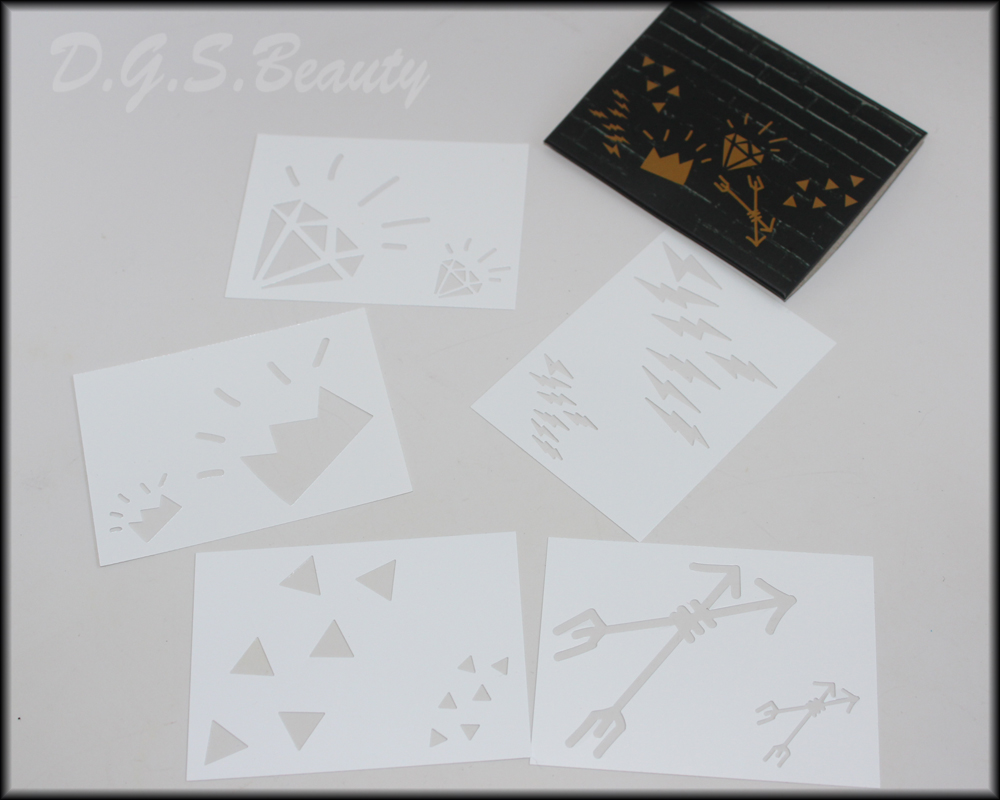 Body Stencils!  My daughter and I will be having a lot of fun with these.  I know she'll love it.
"Live While We're Young"
Last, but not least is a multidimensional gold glitter nail varnish.  It goes great over solid colors.  I love the rainbow effect it added to my black nail polish.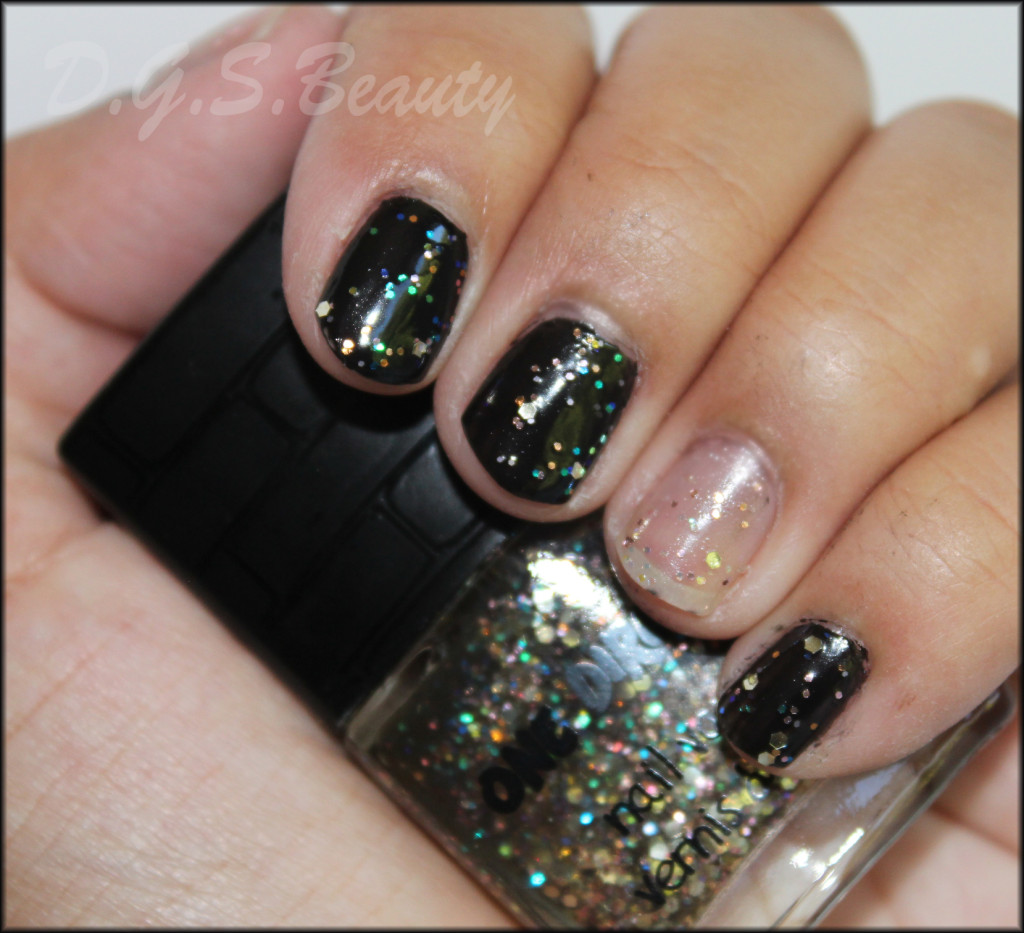 Overall, I enjoyed this kit.  I loved that it included a little bit of everything, which makes it very convenient for traveling.  I really can't wait to see how the other kits are in store.  If you want to buy yourself a kit, you can find these at Macy's, Dillards, Lord and Taylor and several other stores.
What are your thoughts?
Thanks for reading,